BIOGRAPHICAL NOTES
I am the second of three sons born to Arthur Morton Murphy (1899-1964)
and Claire Frances McCarthy Murphy (1895-1971). I arrived on July 21st, 1930,
in San Antonio, Texas. These are my paternal grandparents Maggie Franc Morton and James Owen Murphy, flanked by their sisters Belle Neice and Rose Murphy:

The photo was posed in a professional studio (thus the painted backdrop)
and may well be a wedding memento. Grandpa Murphy is very formally attired. Grandma is not wearing white satin, but money was probably short,
and in any event, she was a very no-nonsense woman. I can well imagine
that to her buying a "fancy frock to be worn once" was not an acceptable option. She actually has on about as much lace as I suspect she ever wore:
She was a straightforward, no-nonsense, no-frills, practical mountain woman.
My dad was born at the base of Electric Peak, Montana, at the Horr railway stop where my Grandpa was the station agent and telegrapher.
The family lived in the railway building.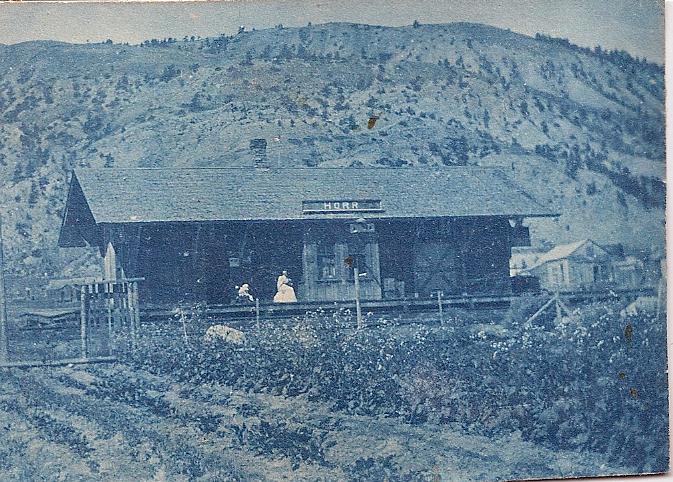 Gram Murphy sits on the porch to do her mending in the sunlight.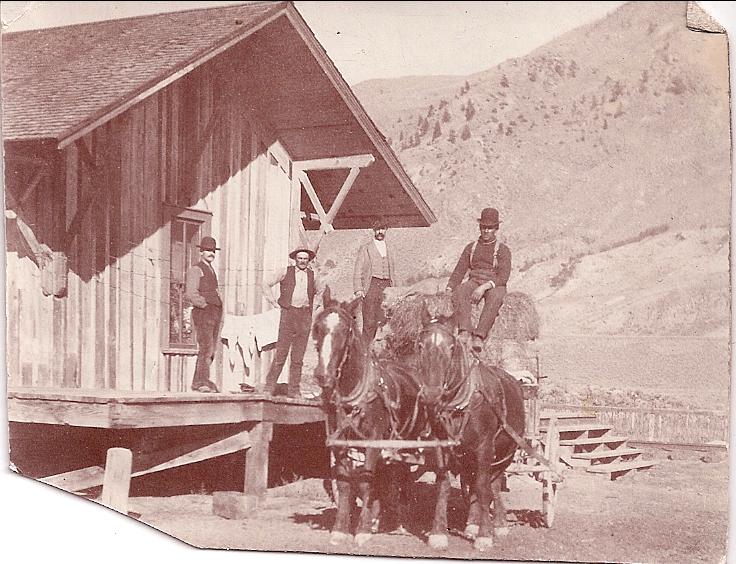 Grandpa waits, hands in his pockets, for the arrival of the train
which will pick up the mule-drawn cargo.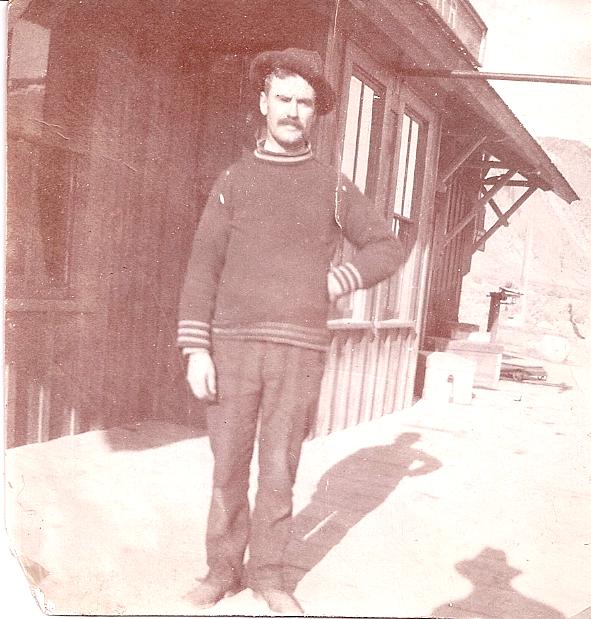 Grandpa, probably off-duty, in his casual sweater and rakish hat.
My dad, Arthur Morton Murphy, was born and lived here in the station with his sister Judith and his younger brother, Bob. He attended high school,
and then graduated from Saint Charles College in Helena, Montana.
He was a good student and was sent to Washington, where he received a PhD
in Sociology from The Catholic University of America.

Meanwhile, on the other side of my family - and the other side of the country -
my maternal Grandfather Henry McCarthy, was a sailor and seaman rarely at home. His wife, known to us as "MamaCarthy" was an industrial seamstress.
When Henry died in Boston, He left behind my mother-to-be Claire,
her younger sister, Gertrude, and her younger brother, Henry, Jr..
Claire went to work without completing high school. She came to Washington, DC, in the depth of the Great Depression, and was unable to get a job.
| | | |
| --- | --- | --- |
| | | Finally she found an opening at a government office and was asked if she could type. Admirably honest, she smiled sweetly and said something like, "I'm sure I can manage that." Manage she did: with her last savings she bought a portable typewriter and spent the weekend in her rented room practicing. Fortunately, on the first day of work she had only to address envelopes, which she did haltingly but satisfactorily. Spending ensuing nights at the little portable, she was able to keep up with the demands of the job. [The photo is not actually of her machine.] |
Seeking further education, Claire enrolled in a night class at Columbian College, now George Washington University. The young professor, Arthur Murphy, gave some of his female students a ride home after class each night.
Claire was included, and he managed to drop her off last so that
they could spend time together. Subsequently, she married her teacher.

Here are Claire and Arthur in Leadville, Colorado, on one of their many long motor trips to visit relatives. She was really shorter than Dad,
but she's standing on a rock here. Dad is wearing the jodhpurs and boots
which he wore as a tourist bus driver on the perilous, pre-guard-rail roads
in Yellowstone Park before going to college.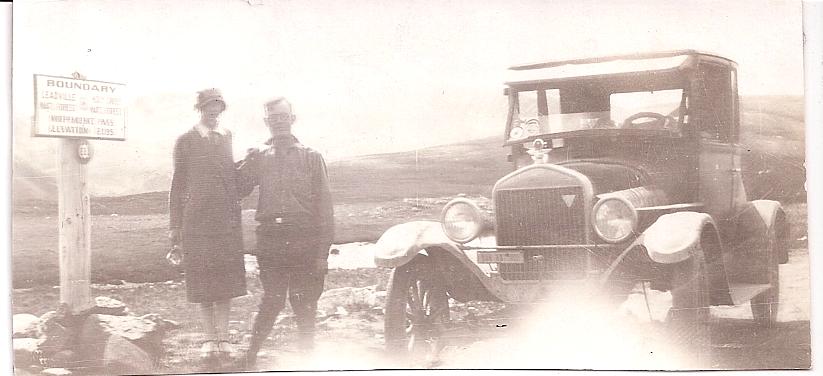 My mother's family remained
in the east:

Her sister Mary McCarthy Sterner and Le Sterner in New Jersey, with their daughters Patti and Ann -

Her sister Gertrude McCarthy Frishmuth and Dick Frishmuth in Philadelphia, with their daughter, Barbara -

Her Brother Henry McCarthy and his wife, Pauline, and their son Alan McCarthy, SJ., in New York.

Here are Arthur and Claire looking very dapper on a summer day, on an East Coast visit.

My older brother, Paul and I were born in Texas, when Dad was teaching there at Our Lady of the Lake College. My younger brother, Kevin, was born in Leavenworth, Kansas, where Dad had became president of Saint Mary College (now the University of Saint Mary).

We grew up in two houses in Leavenworth: first at 305 Prospect Street, and then in this house which my parents built at 709 Columbia Avenue in 1938. Ivy and greenery abound in the photo: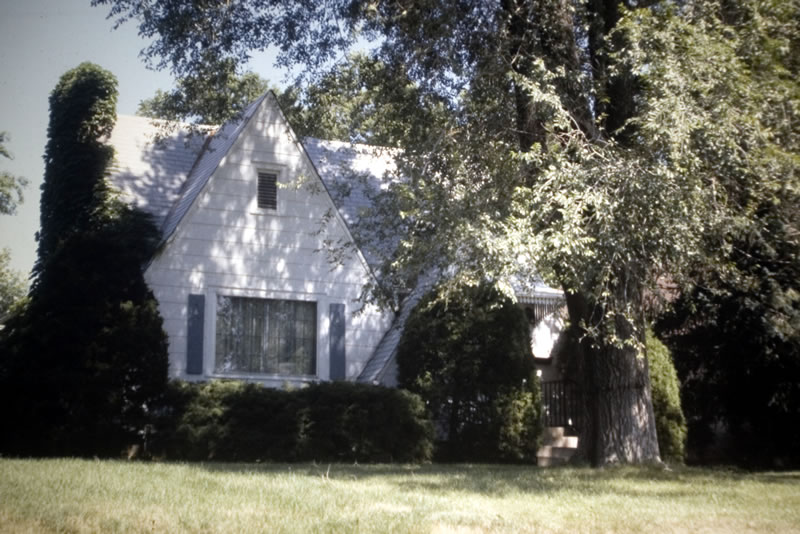 The crank-out casement windows in the living room were considered quite innovative at the time. I attended eight grades at Sacred Heart elementary school and graduated from Immaculata High School in Leavenworth.
We enjoyed plays, concerts and many other events at Saint Mary College. At this time it was an all-"girls" school, with some 350 students. Especially memorable were the plays in Xavier Auditorium, and the annual Christmas caroling in a fleet of buses which went to hospitals and orphan homes. My dad's office was in elegant Berchman's Hall, built in the 1930's and still a beautiful building.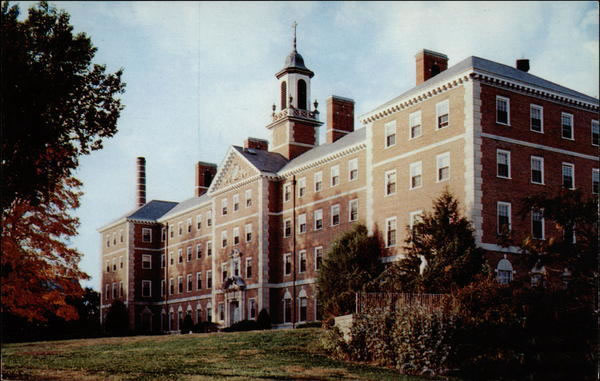 In this building was the oak-paneled "Social Room" where receptions were held on special occasions, with harp music in the background.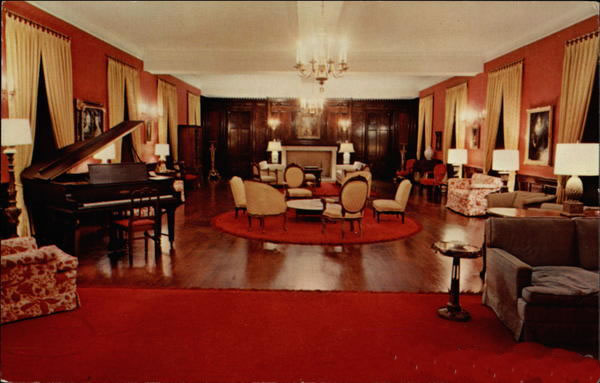 I received a bachelor's degree in Sociology from Saint Benedict's College
(now Benedictine College) in Atchison, Kansas, a Master's Degree in Speech
and Drama from The Catholic University of American in Washington, DC, and a PhD degree in Theatre and Psychology from The University of Wisconsin.
As a child, I appeared in a non-speaking role as a child court jester in a play at Saint Mary College. For jester's wand, My father mounted a doll's head on a square red handle, and my mother added a red-and yellow satin cap and collar, with bells, courtesy of her ever-busy Singer Sewing Machine.
The following Christmas, my present arrived in four large magenta shirt boxes from Mr. Blackman's Men's Clothing. In the first box were three cardboard-and- foil crowns, again Claire's handwork. There was also a script which she had written, called THE PRINCE WHO FELL OUT OF THE SKY.
The three-page three-character play had roles tailored for me as The King, Paul as the Prince, and our next-door neighbor, Lois Linck, as the Princess. Each of the other boxes held a costume. Lois and I, here in regal attire, are rehearsing the scene in which the Prince, (my brother Paul) parachutes into the kingdom (off-stage) from his faltering plane and falls in love with Princess Lois.

After opening these presents, I was escorted to the basement where, somehow without my notice, Arthur had hung maroon curtains on poles to form a stage about nine feet wide and six feet deep. Two big drapes (salvaged from our previous house) were hung on a track, with a pulley to pull them open and closed. A light fixture on either side of the stage, each with a pull cord, provided "stage" lighting. My mother had added a header, with MIMIC THEATRE stitched out in bias tape on a scalloped drape.

No home movies of our halcyon rainy-days basement shows exist, but theatrical seeds were planted.
By the fifth grade my friends and I were going to Kansas City to see Blackstone, the last old-time white-tie-and-tails magician to tour a large full-evening stage show in the tradition of Kellar, Thurston and Dante, although his son, Harry, Jr., toured the show for a few years after his father's death. Blackstone was the picture of confidence and elegance, but I later learned that toward the end he could hardly scrape up the funds necessary to travel with his retinue of assistants and large-scale illusions.
Like many boys of that era, we then discovered the Johnson & Smith Mail-Order Catalogue of novelties and magic tricks. To small-town boys, this was a treasure trove of jokey props and magical wonders. The days waiting for the postman to bring our packages were excruciating, and their arrival was joyful. Except, of course, when some magic marvel proved to be no more than some instructions printed badly on tissue-thin paper, accompanying a piece of thread and a little hook.
As we came into our teens and had our first after-school jobs, we moved up to the more substantial and expensive splendors sold by Abbott's Magic Novelty Company in Colon, Michigan, "The World Capitol of Magic" -- and Blackstone's home town. He was co-founder of the firm. Soon my friend Conrad Waldstein and I put together a show and became "MURDON & WALDINI" with Conrad arranging bookings at the synagogue and Donn securing appearances before The Knights of Columbus and the Daughters of Isabella. Halcyon days!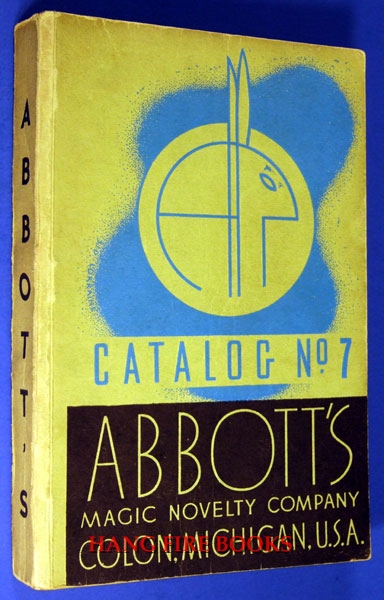 xxxxx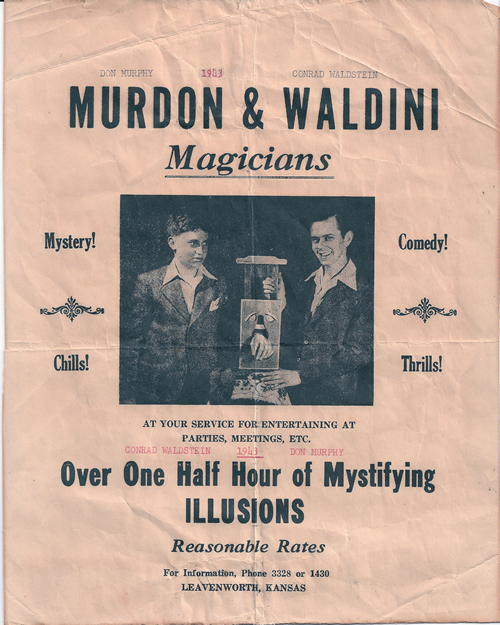 Our "big break" came when we were high school sophomores. A traveling carnival arrived in Leavenworth with a side-show which performed on platforms set up in a big tent. One performer had departed from the show, leaving an empty platform, and coincidentally, we applied to appear.
Neighbors' eyes widened and jaws dropped as they saw Conrad and me standing nonchalantly in a blaze of light on the high ballyhoo platform in front of the tent - with The Snake Charmer, The Tattooed Lady, Ramona-Ray The Half-Man-Half-Woman, and two gyrating, grinding Exotic Dancers. We responded with sophomore sangfroid, as in "We're professionals now..!"
The Strong Man assured us that our trunk of props would be safe, and we performed several times nightly for the next two weeks. We were not, of course, being paid, because the side-show manager assured us that we were getting "great experience."
As the carnival came to the end of its run, we were invited to go with the show to Omaha. "We will make nothing but money there!" said the manager. We were excited and ready to pack up and make our break into show business. Our parents, not surprisingly, were less thrilled, and thought it best that we continue our education, and not in Omaha. That kind of ended the magic act.
I acted in plays and directed at St. Benedict's College (now Benedictine) where I directed my first play, a one-act melodrama called The Valiant, in which a young woman visits her lover just before he is to be executed at midnight. Dave Shields, below, discusses his fate with the warden, Joe--. Unshackled and un- cuffed, one wonders why the prisoner didn't grab the warden's gun and take him hostage, but that's a different play. Dim faces at center show that this was an in-the-round-production - something of a novelty in 1954.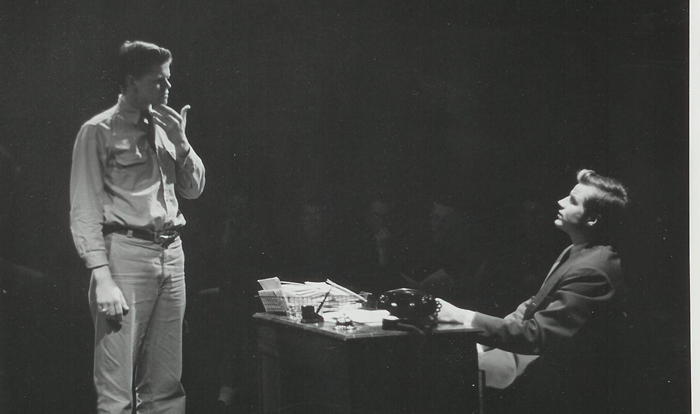 Here I am (below left) portraying an old geezer in jazzy white loafers, with a hilariously inept black-and-white hair job and a gray goatee, playing chess with Gene Wolters. This was at Mount Saint Scholastica - twin college to Saint Benedict's. Well, the rock wall isn't too convincing up close either....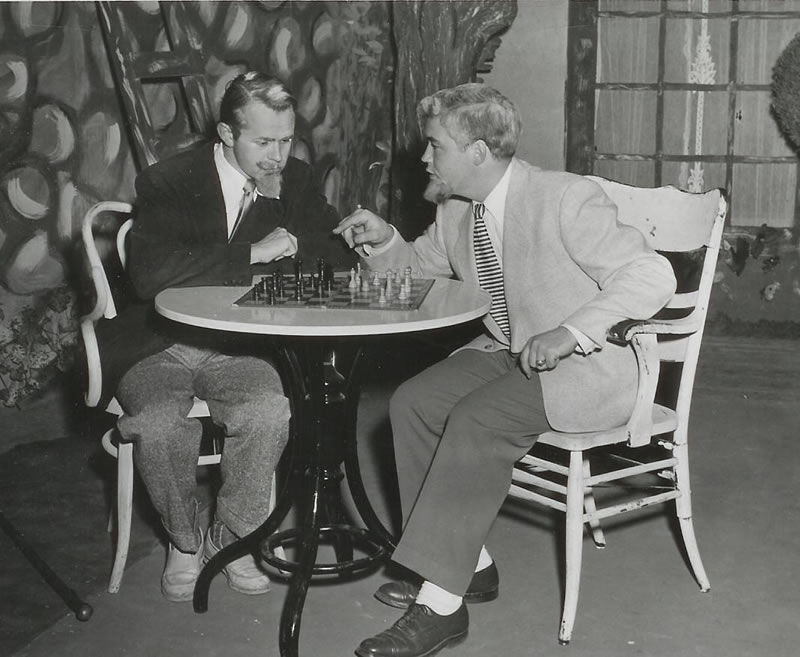 I then went on to Catholic University, in Washington. I was hired as a part-time teacher at Georgetown University in 1954, and my professional life had begun. Subsequently, I was hired full-time, received my doctorate, and taught at the University until the end of 1999.
| | | |
| --- | --- | --- |
| | | For many years I guided the Mask and Bauble Society - the GU theatre group - directing three shows each year. To improve group morale I designed an M&B logo, making a drawing of the long-ago jester's wand to complement a Greek mask, representing comedy and tragedy. |
We did Shakespeare and Shaw, Arthur Miller and Ionesco. I established an annual One-Act Play contest, which, after an absence of some years, now still continues on the campus. Below is a scene from The Teahouse of the August Moon.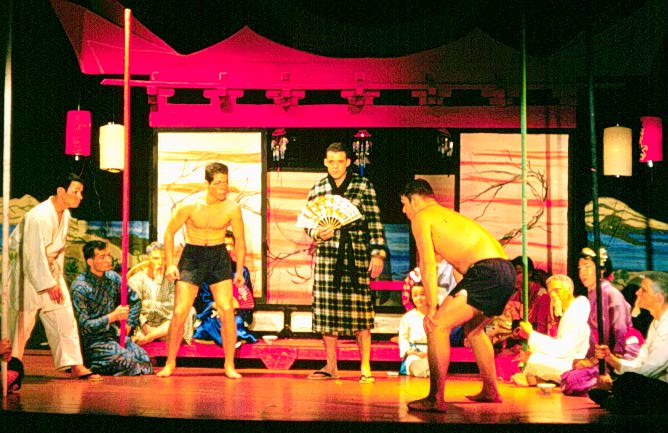 Walter Smith, Jim Cotter, Referee/name forgotten and Tom Kramer
in The Teahouse of the August Moon in Gaston Hall at Georgetown, 1950's.
I also established the Calliope series of annual original musicals and enjoyed the frenzy of taking entirely new material from "page to stage." Many of the songs and scenes were written and changed well into the rehearsal period, giving everyone a taste of being right at the heart of creativity.
Bob Hope's son, Tony, wrote one of the Calliope musicals -- Down the Hatch, a pirate adventure. Tony's mother, the lovely and gracious singer, Dolores Hope, came for the opening night. Incidentally, she celebrated her 100th birthday in 2010.
Two of the Calliope musicals were created by subsequent Tony-Award Winners -- Senior Prom by Jack Hofsiss, and The Thirties Girl by John Guare. As I am writing this, in 2011, John's play The House of Blue Leaves is back on Broadway, still including the song "I'm Here With Bells On," which he wrote for The Thirties Girl.

I conducted a twice-a-week drama group at the highly-regarded Chestnut Lodge Psychiatric Hospital in Rockville, Maryland. We read many scripts aloud and produced a number of plays, once bringing The Importance of Being Earnest for a performance in Stage One at Georgetown.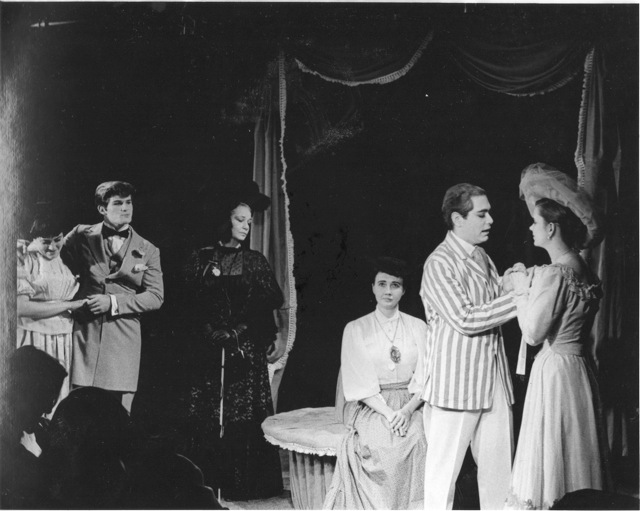 In 1975 I was invited to become the Secretary of the newly-formed National Theatre Corporation, established to take over the lease of the National Theatre from The Nederlander Organization. Roger Stevens of the Kennedy Center arranged the conversion of the theatre, a commercial enterprise since it was established in 1835, to a not-for-profit organization.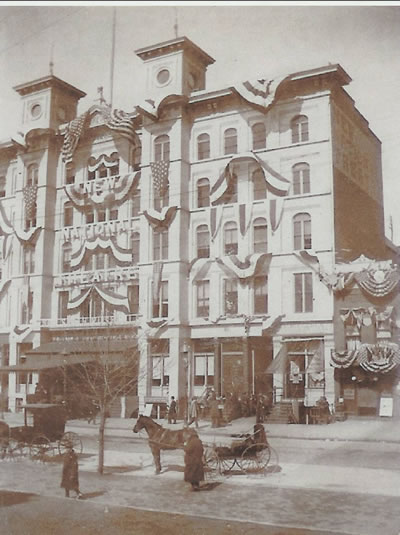 xx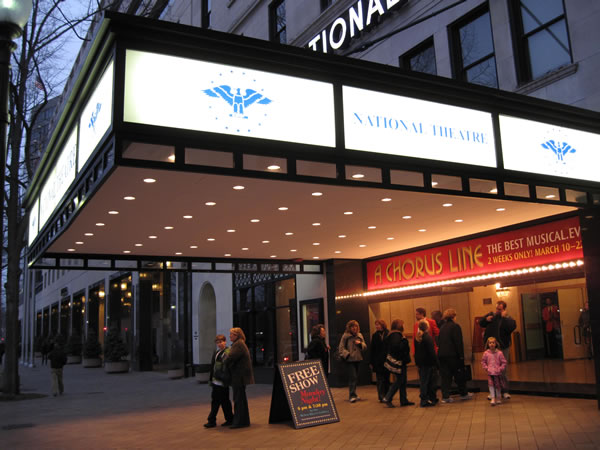 President Lincoln attended many performances at the National, as have many First Families since. Longtime mid-20th-centurey Manager Scott Kirkpatrick told me that Eleanor Roosevelt used to walk over from The White House, unattended, to purchase tickets. I personally saw Presidents Kennedy, Reagan, Bush Sr., Carter, Clinton and Bush Jr. at the National.

I later became President and Executive President of the National, and served until the end of 2010, when I retired to a wonderful life of gardening, travel, friendships and contemplation, with my partner of 38 years, COL. H. Jones "Jon" Carrow, III, US Army retired. We live in Arlington, Virginia.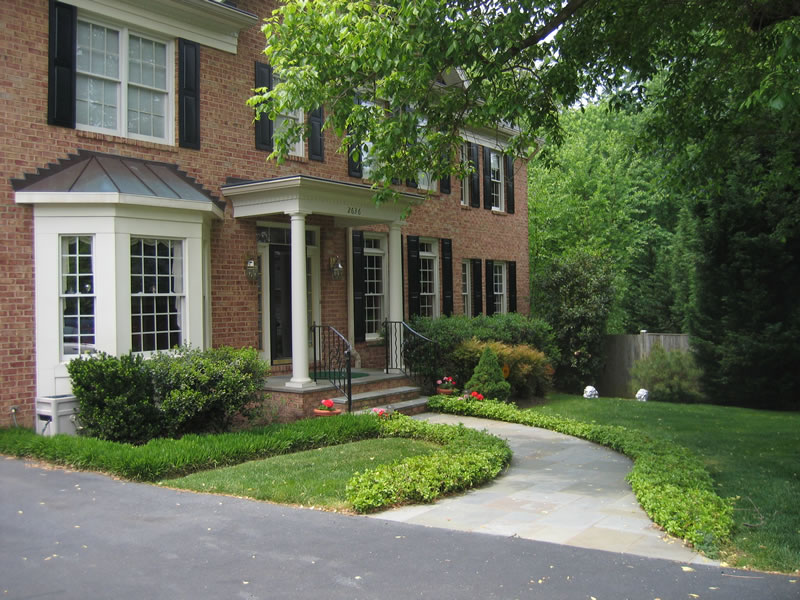 My older brother, Paul Owen Murphy, deceased, was married to Emma Jean "EJ" Navinsky Murphy. They had three children: Paula Marie Murphy LeBlanc, Maris Murphy Konroy and David Murphy. Paul was editor of the Leavenworth Times,in Kansas, and then of the Sunday Section of the Philadelphia Bulletin.
My younger brother, Kevin Clare Murphy, worked for many years as an airplane engine mechanic at TWA Airlines in Kansas City. He married Patricia Kempster Murphy, now deceased. They had six children: Sean, Christopher, Brendan, Kathy, Sherri and Dan.
In 1999 we had an East Coast McCarthy Family Reunion at the beach in North Carolina, and it was terrific to have so many relatives together. What joy and what memories! Family matters.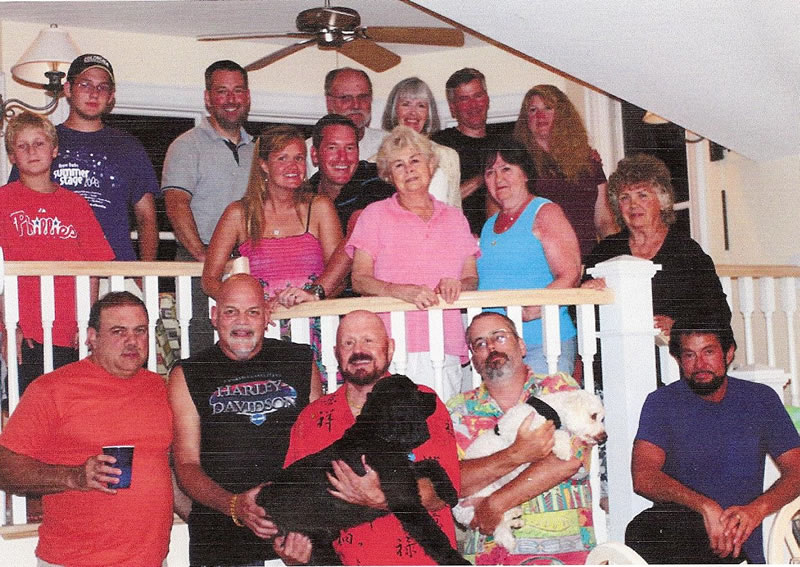 Back Row: Timothy Murphy, Andrew Murphy, Konray's Best Man, Benoit LeBlanc, Paula Murphy LeBlanc, David and Barbara Murphy,

Middle Row: Kara Konray Kraman, Kris Kraman, Friend Anne Ryan, Ann Sterner, and Patti Sterner Faith
Front Row: Neighbor Al Killeri, John Carrow, Donn Murphy with Newman Murphy, Friend Ken Wentzel with Angelo Killeri and Friend Marshall Rountree.
Given the opportunity of having your taken, most people would probably take (if, of course) he is of your preferred party. I had just such an opportunity at a speech when I agreed to take a stranger's photo, if she would take mine. No bragging, but I got a pretty good photo for her. Her of me? Not so much. The President seems to be whistling, and I'm kind of our of it. Opportunity missed. Oh, well. Onward & Upward!